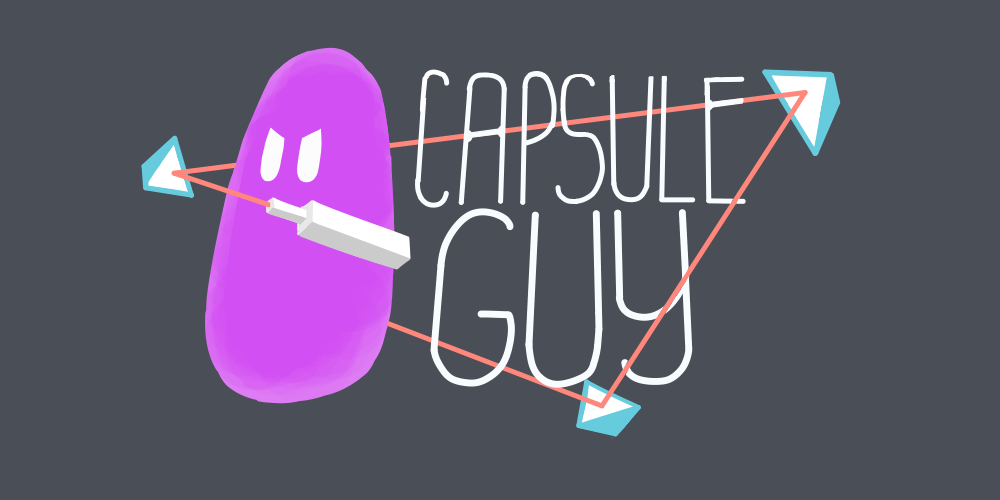 Capsule Guy
A downloadable game for Windows and macOS
(Also check out the GameJolt page)
Capsule Guy is a challenging platforming game where you shoot lasers at things and win sometimes.
Made mostly by myself (@1f1n1ty_) in four months as a capstone project for a year-long independent study in game development. Although it's not a stunning game, for a larger scale project than all my previous endeavors, I'm really happy with how this turned out and by extension the direction of my game creating passion! At least I think that's how it works
As this is an academic project, I don't want to compel anyone to spend money to play it, but I encourage you to donate if you feel so inclined! It would mean a lot to me. You can make a one-time donation directly on this page or go to my Patreon to support all of my work. If you can't, though, spreading the word is fine with me :)
Anyway, hope you enjoy!
Features, to an extent:
Laser shooting, which is an unoriginal yet oddly charming concept
30 handcrafted levels, so that the frustration you get from the difficulty is completely intentional
5 enemy types, which is a new world record and breaks several boundaries
4 original songs (downloadable on my Bandcamp for everyone interested, and for everyone not interested)
A minimalist art style, which in this case is just a lazy cop-out for not being an artist
Some secrets to find, but without any in-game consequences that would otherwise distract from the actual secret
Credits, abridged:
Matthew Zhang - Developer
Brandon Barber - Mentor
More credits in the game
Important notes:
Controls: Keyboard + Mouse. Seriously these levels are designed for mouse and without one it's very hard.
Aspect Ratio: 16x9 fullscreen highly recommended.
Platforms: Windows + MacOS. Linux users, I apologize.
Made with: Unity, FMOD, FL Studio, and LOVE <3
| | |
| --- | --- |
| Status | Released |
| Platforms | Windows, macOS |
| Rating | |
| Author | 1f1n1ty |
| Genre | Platformer, Action, Shooter |
| Made with | Unity, FL Studio |
| Tags | 2D, Minimalist, Puzzle-Platformer, Side Scroller, Singleplayer, Unity |
| License | MIT License |
| Average session | A few minutes |
| Languages | English |
| Inputs | Keyboard, Mouse |
| Links | GameJolt, Twitter, Patreon, Soundtrack, Source code |
Download
Click download now to get access to the following files:
Comments
Log in with itch.io to leave a comment.
Simple and minimalist concept. Like it! I really enjoyed.
Hey! Thanks for playing :) don't worry if I was in your position I would probably hate the game too
Very fun! I had a lot of fun finding the secrets and various shortcuts. A speed-run timer for individual levels would be nice (maybe except for "L"?).
A few bugs:
shooting the laser straight down (to the pixel) causes the player to turn around for 1 to 2 frames.
Jumping into fast moving platforms (like in secret rooms 1 and 3 and the first elevator in the space transition) usually kills the player.
The screen transition in Lifting Motion can be jumped over with the laser and there's a missing screen transition if the player attempts to re-enter secret room 3.
Really liked it! Fun little game, the last four levels are the best levels; wish you could've expanded on the space section because it has the best music. Low gravity levels could've been fun. Good job! :)
This is fantastic! The simplistic art style gets everything across that it needs to with no added noise and the little details in the animation make it all really impactful! The puzzle and challenge design is on point too, there were a few sections that were a little tedious in re-breaking boxes, but for the most part they are an ideal length for challenge and progress. Great work!
Hey CoalFire! Thanks for playing, it means a lot :) Yea I can see how the excavation level could have been shorter
Really enjoyed playing this game! The art style was unique, the game mechanics felt really well done, it provided a good challenge as it was not too easy or too hard (or I just was god awful on some levels), and the overall feel of the game was just outstanding, and you only worked on this for four months. It was a very good game to be made in that amount of time, and again, I really enjoyed playing it!
yo Chance! thanks for stopping by, glad you liked it :)
looking forward to seeing your stuff too!